by Rachel Wells
Morning time before school is often a rush, but for kids, breakfast really is the most important meal they eat. It doesn't have to take a lot of time (or work!) to give your child a quick, yummy, and healthy start to their day. The following breakfast ideas are kid approved, easy to make, and ready to be enjoyed by even the pickiest of eaters.
And speaking of picky eaters – there are some things you can do to help your child become more willing to try new things.
Plan your weekly meal menu together.
Let your child help you cook and prepare the meal.
Make your food colorful and fun!
Rainbow Pancakes
You don't need much to take basic pancakes to a whole new level!
Ingredients:
Food coloring
Your favorite pancake mix
Syrup
Step-by-Step:
Simply add food coloring to your pancake mix before pouring it into the pan.
Pour your batter into fun shapes, pictures, or even the letters in your child's name.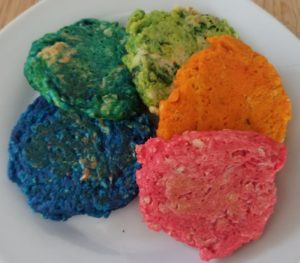 Peanut Butter and Chocolate Chip Yogurt
This one is so delicious your kids may think you gave them cookie dough for breakfast!
Ingredients:
Vanilla Greek yogurt
Peanut butter
Chocolate chips
Step-by-Step:
Combine all 3 ingredients and enjoy!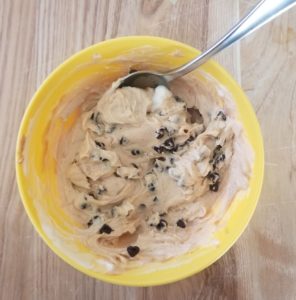 Monster Energy Balls
Healthy breakfast cookies? Yes please!
Ingredients:
1 ½ cups of oats
½ cup creamy peanut butter
⅓ cup honey
½ cup mini chocolate chips
½ teaspoon vanilla extract
 Step-by-Step:
Mix all 5 ingredients together until smooth.
Shape the dough into small balls on a cookie sheet or pan, and place them in the fridge for about 30 minutes to chill.
Enjoy!
Be sure to save any un-eaten cookies in the fridge for next time.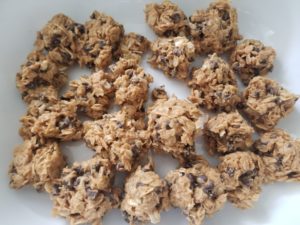 Yogurt Parfait
Perfect for kids who want to make breakfast themselves.
Ingredients:
Yogurt
Fresh or frozen fruit
Granola
Chia seeds
Step-by-Step:
The most fun way to eat a yogurt parfait is to set up a DIY yogurt bar!
Scoop yogurt into a bowl, and let your child add their own toppings to create just the right breakfast for them. Yum!
Unicorn Toast
It's called Unicorn Toast… doesn't get much more fun than that!
Ingredients:
Bagels, english muffins, or bread
Whipped strawberry cream cheese (you can also mix plain cream whipped cream cheese with fruit jelly)
Sprinkles
Step-by-Step:
Toast your bread of choice.
Top with colorful cream cheese and sprinkles or edible glitter.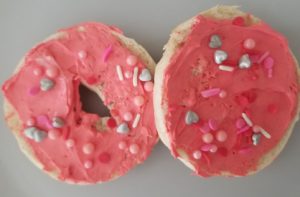 Chia Pudding
Packed with healthy choices, and perfect for early mornings – this breakfast cooks itself overnight.
Ingredients:
2 Avocados
1 banana
2 tablespoons of cocoa powder
¼ cup chia seeds
2 tablespoons of maple syrup
Salt (just a pinch)
Cinnamon (just a pinch)
Berries (optional)
Step-by-Step:
Combine all ingredients in a blender (except for the berries), and mix until smooth.
Cover and refrigerate overnight.
If you want, top with fresh berries in the morning before enjoying.
Fresh Fruit and Yogurt Cones
Perfect for summer time, or for when you want to enjoy the fun of summer all year long.
Ingredients:
Ice cream cones
Yogurt
Fresh fruit cut into small pieces (berries work really well)
Step-by-Step:
Put a scoop of yogurt in the bottom of your cone.
Add a few berries or cut up pieces of fruit.
Continue adding layers of yogurt and fruit until you fill the cone.
Enjoy!
PB Banana Roll Ups
Even the youngest kids can make these themselves.
Ingredients:
Tortillas or protein wraps
Peanut butter
Banana
Step-by-Step:
Spread a layer of peanut butter on the tortilla.
Place a peeled banana on one end of the tortilla and roll it up.
Cut the rollup into small pieces (kind of like banana sushi!).
Fruit and Yogurt Rollups
These fun breakfast wraps are equal parts delicious and filling.
Ingredients:
Tortillas or protein wraps
Strawberry yogurt
Cut up banana and strawberries
Granola
Chia seeds
Chocolate peanut butter
Step-by-Step:
Spread chocolate peanut butter onto a tortilla.
Put yogurt, slices of banana, and cut up strawberries, on top of the chocolate peanut butter.
Sprinkle with chia seeds and granola.
Roll up the tortilla and enjoy!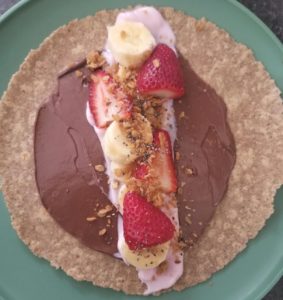 Breakfast burritos
A great choice for a more savory kid-approved breakfast meal.
Ingredients:
Tortillas or protein wraps
Eggs
Cheese
Crumbled bacon or sausage
Diced Peppers
Step-by-Step:
Using a frying pan, scramble your eggs.
Mix together the scrambled eggs with cheese, crumbled bacon or sausage, and diced peppers.
Scoop your mixture onto tortillas and roll them up into a burrito.
Which breakfast are you planning on making first? Let us know which ones your child enjoyed!