by Rachel Wells
There is something so sweet about fun seasonal snacks – even sweeter when kids can get in on the action and make them (mostly) themselves. So put those pre-packaged snacks back in the pantry, and get your child in the kitchen mixing up some of these adorable spring creations.
Whether you are looking for fun snacks to bring on a picnic, enjoy after school, or bring to a party, we've got you covered with adorable spring snacks that are almost too cute to eat!
Rice Cake Bunnies
Ingredients:
Rice cakes
Peanut Butter
Banana
Marshmallows and chocolate chips or blueberries
Raspberries
Step-By-Step:
Spread peanut butter onto a rice cake.
Cut your banana in half, then cut one of the halves length wise, and the other half into circles.
Start assembling your bunny. Use the banana to make the cheeks and ears, the raspberry for the nose, and marshmallows with chocolate chips or blueberries to make the perfect eyes.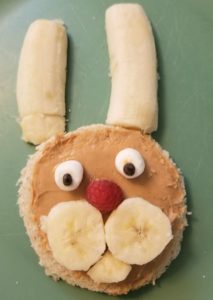 Cheese and Cracker Chicks
Ingredients:
Round crackers
Cheese slices
Carrots
Chia seeds (or chocolate chips)
Step-By-Step:
Cut circles out of the cheese slice, small enough to fit on the crackers.
Dice the carrot into small circles. Cut a few of the carrot circles into triangles.
Assemble chicks, using the carrots for the feet and beak, and chia seeds or chocolate chips for eyes.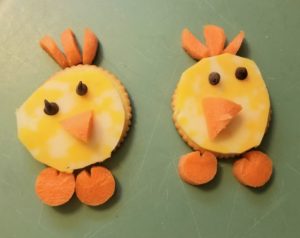 Cereal Rainbows
Ingredients:
Pretzel sticks
Fruit Loop cereal
Marshmallows
Step-By-Step:
Place a marshmallow onto one end of a pretzel stick.
String a rainbow of fruit loop cereal onto the pretzel stick.
Finish by placing a marshmallow on the other end of the pretzel stick.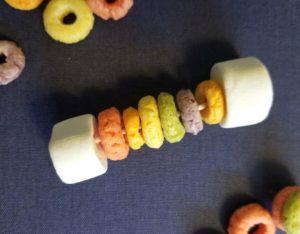 Pretzel Butterflies
Ingredients:
Pretzels
Chocolate chips.
Sprinkles
Step-By-Step:
Melt the cholate chips in a microwave.
Line a cookie sheet with parchment paper.
Each butterfly will need 2 pretzels placed directly next to each other. Place your pretzels on the parchment paper.
Use your melted chocolate to fill in the pretzel holes and attach optional pretzel antennas.
Pour sprinkles onto the melted chocolate to decorate the wings.
Fruit Flowers
Ingredients:
Toothpicks
Green grapes
Pineapple
Strawberries
Step-By-Step:
Cut the tops and bottoms off the strawberries.
Place toothpicks into the large side of the strawberries.
Skewer a green grape onto the toothpick to look like a leaf.
Use a cookie cutter to cut pineapple in a flower shape, and skewer it on the top of the toothpick.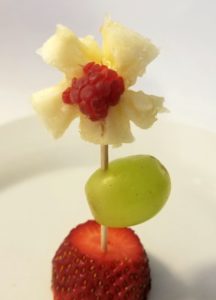 Birds in a Nest
Ingredients:
1 ½ cups of oats
½ cup creamy peanut butter
⅓ cup honey
½ cup mini chocolate chips
½ teaspoon vanilla extract
Strawberries
Candy eye sprinkles (or substitute with marshmallows with chocolate chips for eyes)
Slice of cheese
Step-By-Step:
Start by making the bird nests. Mix the oats, peanut butter, honey, chocolate chips, and vanilla together until it forms a dough.
Shape the dough into small balls on a cookie sheet or pan, and place them in the fridge for about 30 minutes to chill.
Remove the nests from the fridge, and press a strawberry into each one.
Add eyes using marshmallows and chocolate chips, and a cut triangle of cheese for the beak.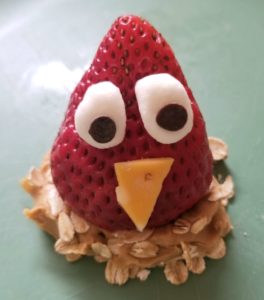 Celery Snails
Ingredients:
Celery
Peanut butter
Thin slices of apples
Pretzels
Chocolate chips
Step-By-Step:
Spread peanut butter into a slice of celery.
Place a thin slice of apple into the peanut butter to create the snail's shell.
Add pretzel pieces (or toothpicks) for antennas, and chocolate chips for eyes.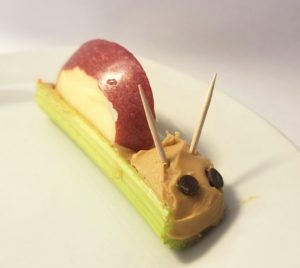 Which adorable snack do you plan to create first?